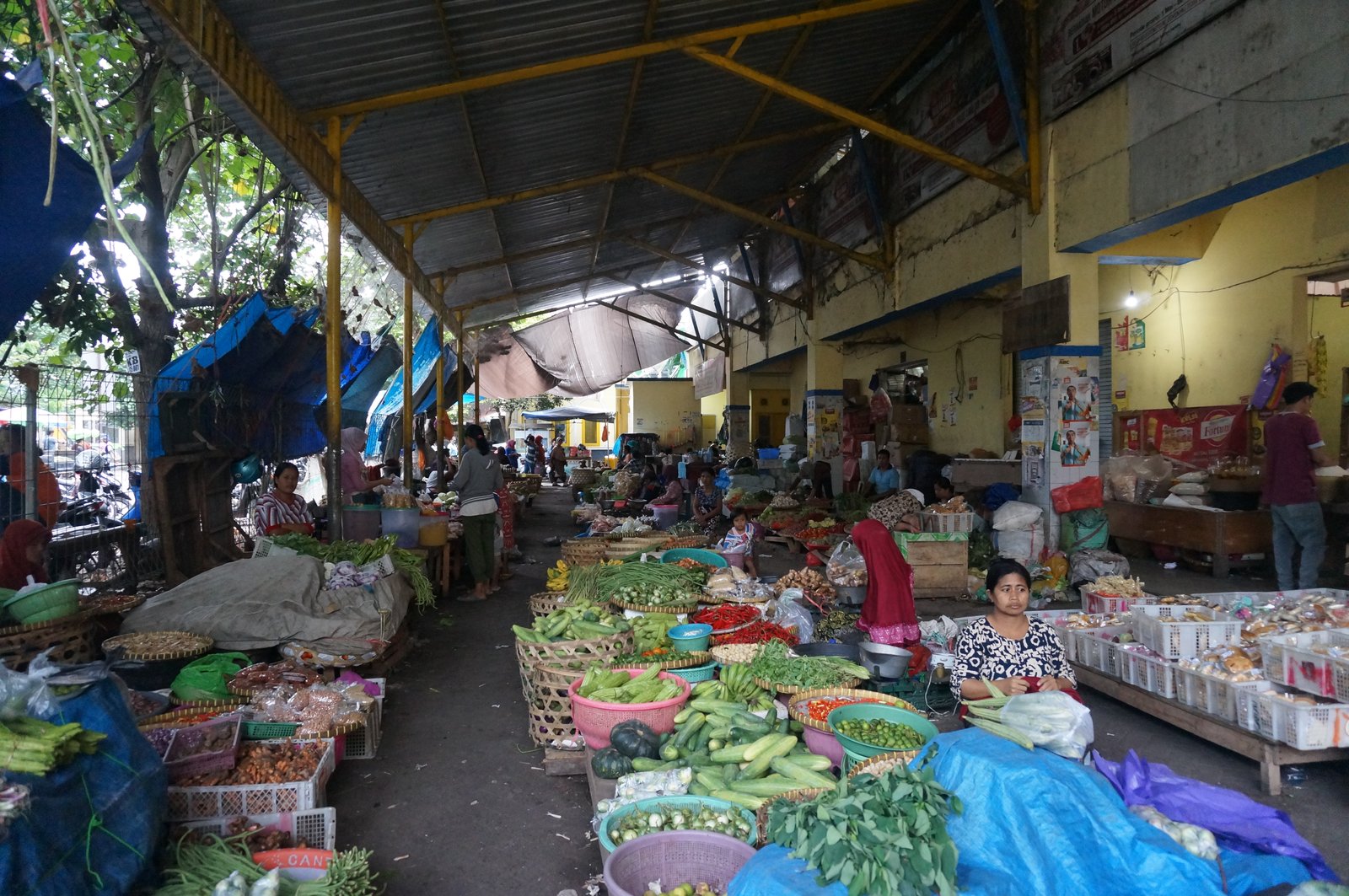 So, after 5h flight from Australia, we arrived in Bali, where we spent another 5h at the airport and took a domestic flight to LOMBOK.
We arrived in April which just after the rain season, it is still low season so you can also bargain more about the price since they need money (We thought we wouldn't be good at that, but we (specially Alban) are doing really well!) :)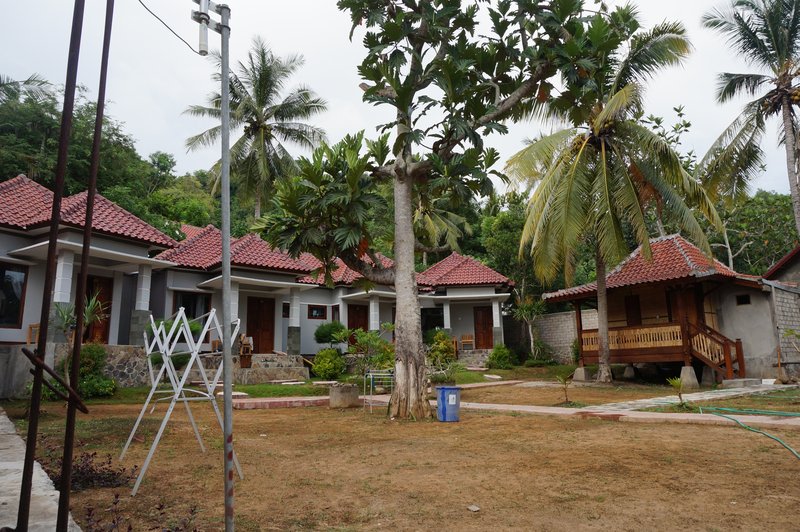 We decided to start in KUTA LOMBOK for the first 3 days. We stayed in really nice homestay - Tri Putri, where they prepared for us the best banana pancakes for breakfast! yummy :)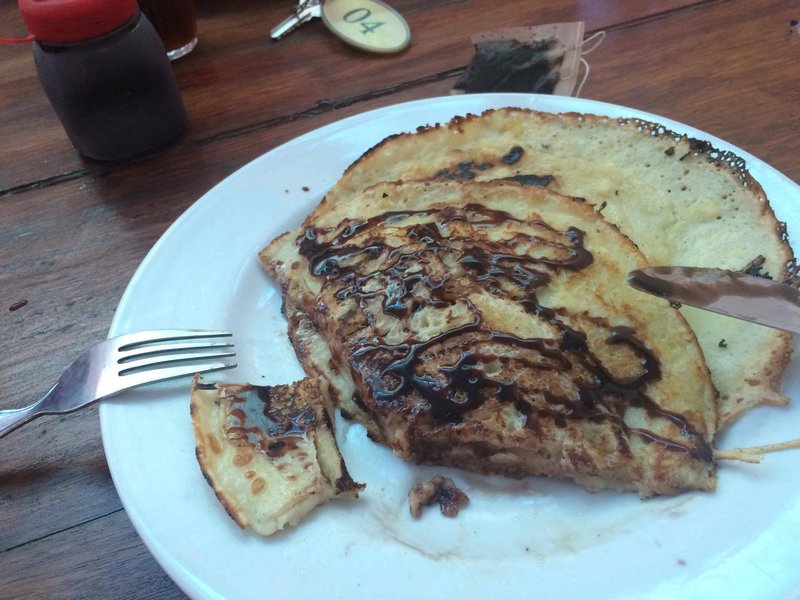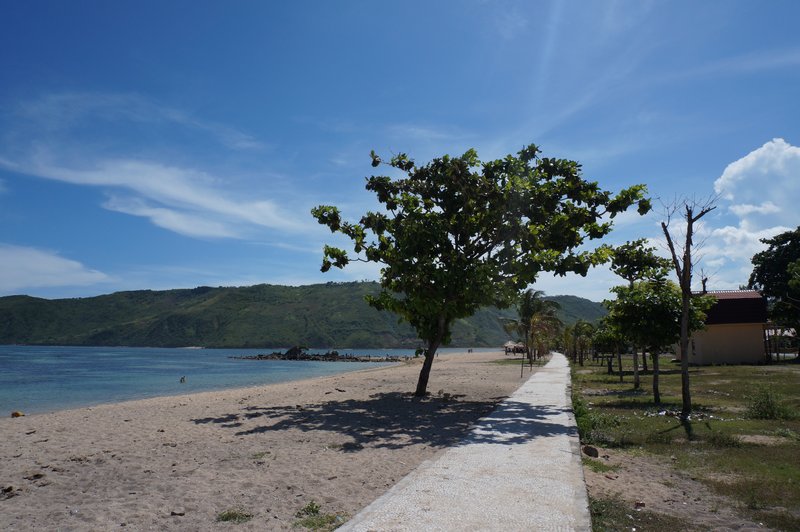 We mostly chilled out the first day. we discovered the different culture, lifestyle, temperatures and tried some cheap local food (Nasi Goreng and Gado - Gado).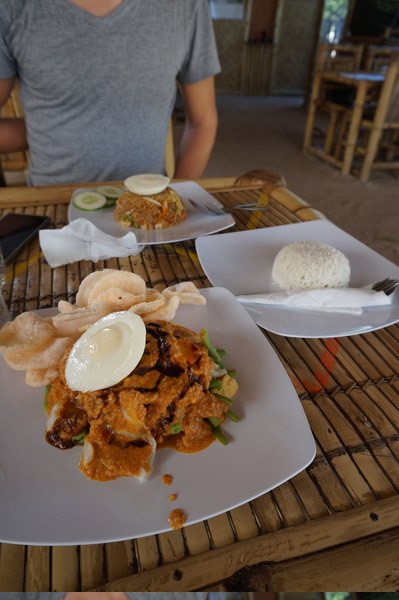 The second day, we rented a motorbike (50.000Rp - 3.40eur per day), which is the most common transport over there. Transport doesn't have any rules or let say, they don't follow them, so you have to be careful how you drive. They are driving on the left side, like in Australia and New Zealand, so we didn't have that problems! :)
We drove only 25km and it took us 45 minutes because of the "great state of the road".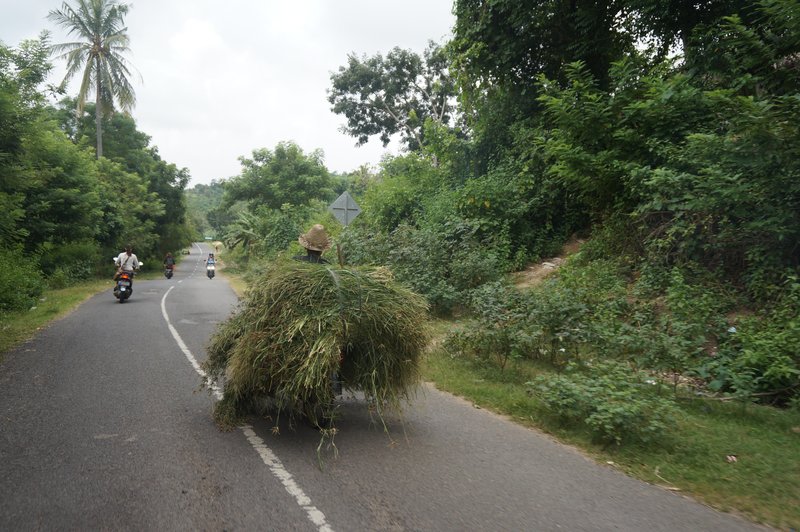 Our first stop was MAWUN beach, a stunning swimming beach. We were lucky there was not much people, but still enough locals to ask you if you want a coconut every 5 minutes..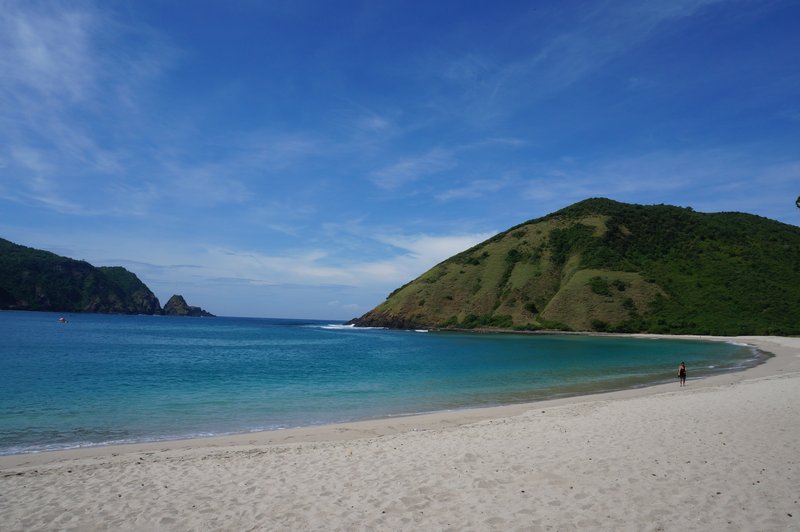 The next stop was MAWI beach, a popular surf paradise with a strong riptide (too strong for use :'( - still beginer). That's a quiet spot and you have to drive on the shittiest road I have ever seen in my life... It was funny to drive on it with a scooter..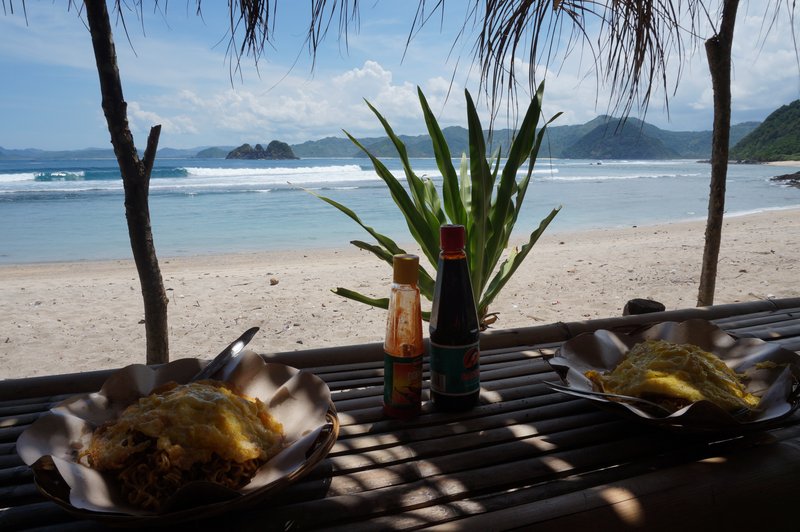 Last stop, further west from Mawi beach, we reach SELONG BLANAK beach, the most beautiful and touristy beach of Kuta, Lombok. We could surf there, but the weather and waves were not good enough to do it, so we just enjoyed watching how cows walk on the beach and kids having fun under the rain ! :)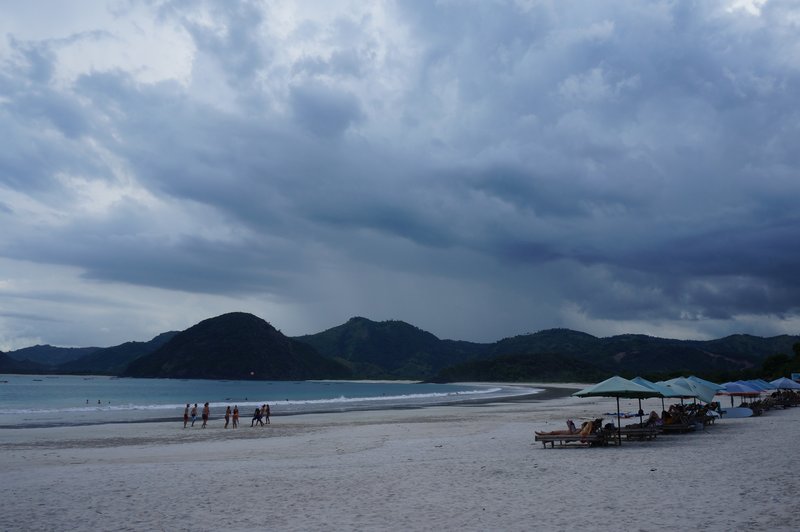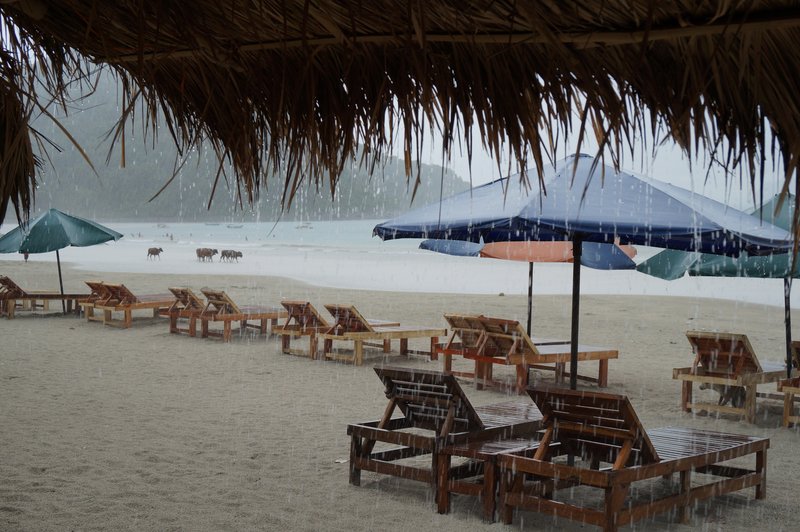 Next day, we decided to go surfiiiiing! After the lesson in Gold Coast, it was time to practice more! We drove few km east of Kuta, Lombok to GERUPUK, fascinating little coastal village of lobster exports.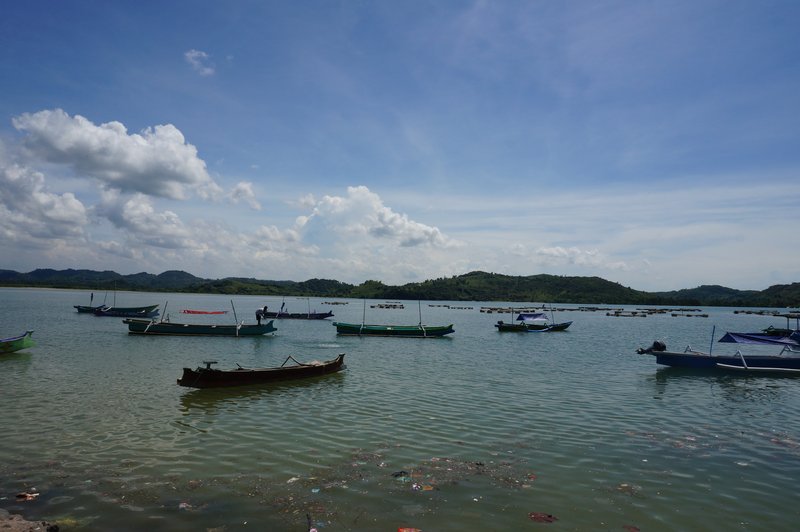 To surf there, we needed to hire a boat to ferry us from the fishing harbour to the surf break. Alban made a great deal with some surf guy .. hehe ... so we rent 2 beginner boards + boat hire + 2 surf guys to give us some tips for only 30 euros for 2 hours of the great and funniest surfing time!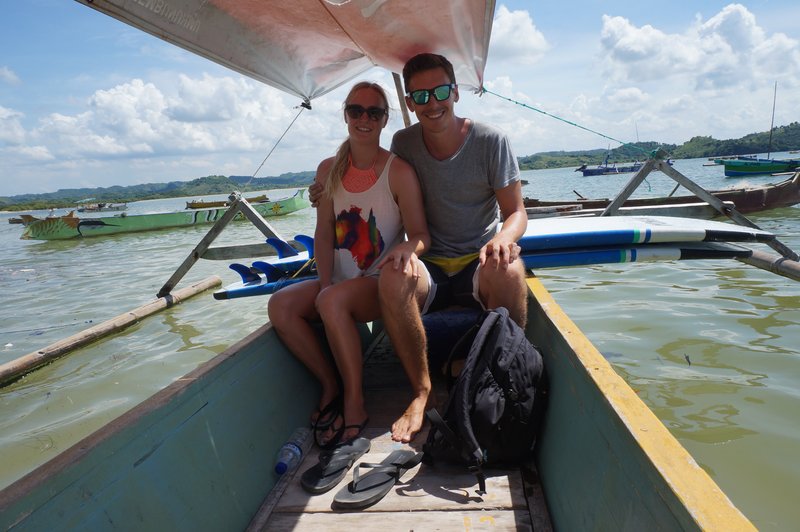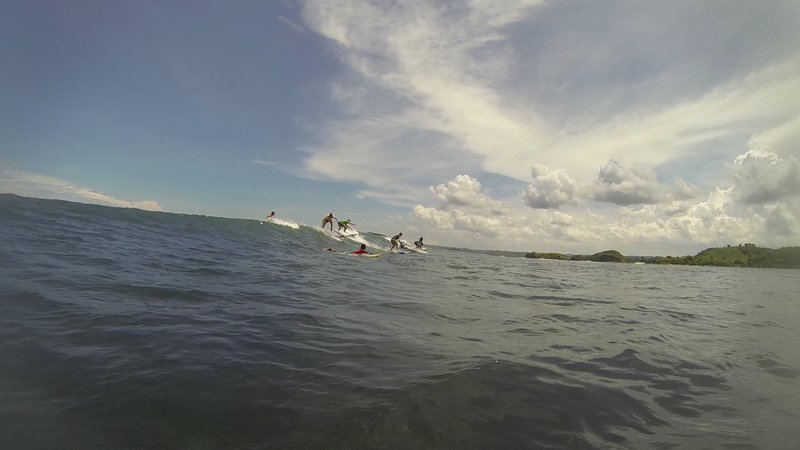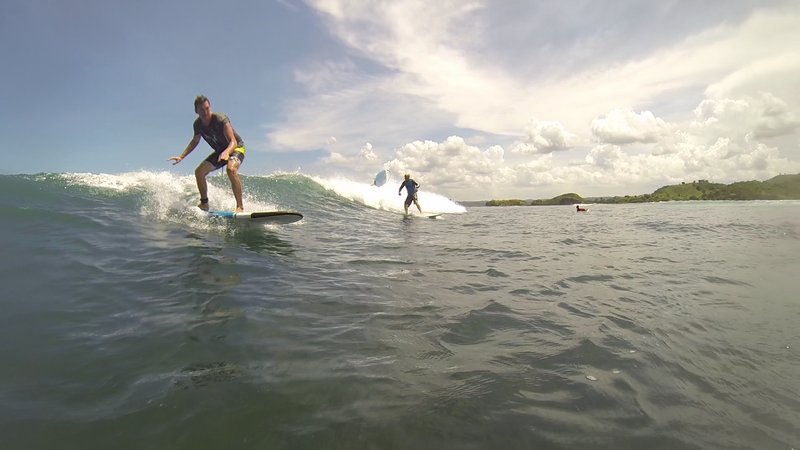 The 4th day, we hired a driver/guide for half a day to guide from south to west lombok going through the main city, MATARAM and SENGGIGI, Lombok traditional tourist resort.
Agung, the guide was really nice, with good English speaking. He drove us all around Mataram, where he dropped us to the main sightseeings:
Taman Narmada - spiritual park garden,


Pura Meru - the largest and second most important Hindu temple on Lombok, built in 1720


Traditional markets, one in Mataram and one food market in Ampenan. Those market are insane, you have meat and fishes all around that stay all day out. The smell is awful.. As a tourist, the only thing you can probably buy are fruits if you don't want to get sick..





Traditional Chicken Sate Dish - he also drove us into one of its favourite fast food and we tried soup and Chicken Sate. The food was good but we did the mistake to take a coconut jus with ICE (probably from the tap)... I let you guest what happened after that (just read the title..)
In the afternoon, we arrived in our final destination of the day - SENGGIGI. It was raining again (because April is between dry and rain season, usually rains in the afternoon). But rain didn't stop us to enjoy the best and the cheapest massage (6 euros for 1 hour) and hair cut (2.5 euros)! :)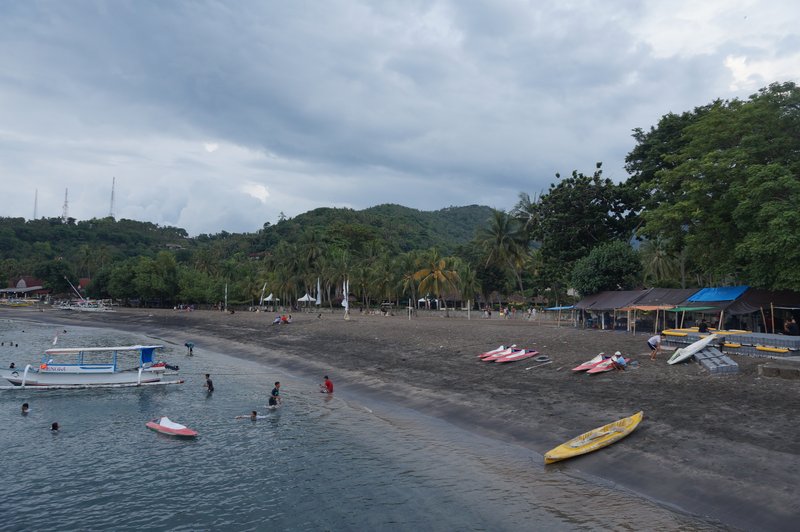 Last day in Lombok, before heading to Gili Islands, we went to Senaru, near Rinjani, Indonesia's second tallest volcano (3726m).
Alban was thinking to do the 3 days trek to the summit but he didn't because of the weather and there was no tour with the company he was trying to reach.
Anyway, we managed to do some walks around with wonderful waterfalls, feed the monkeys on the way and see the magnificent panorama view of the rice terrace.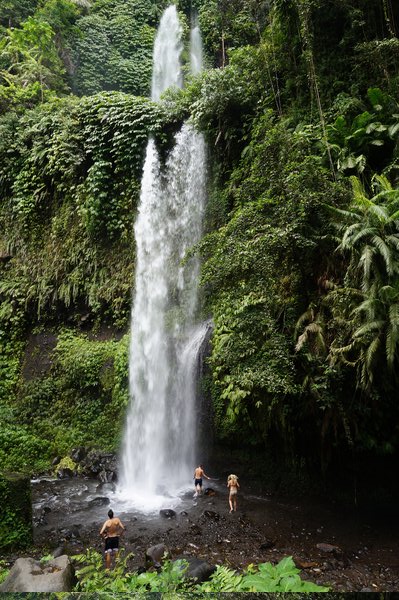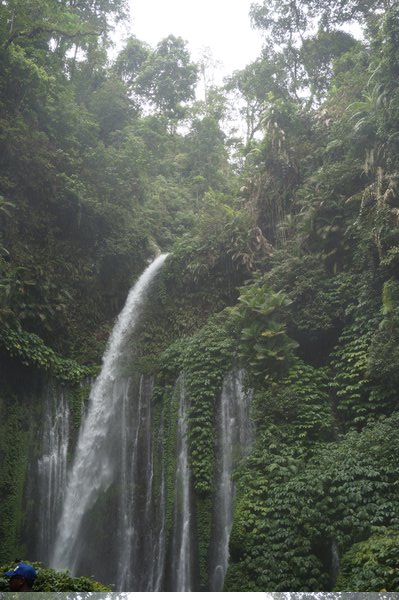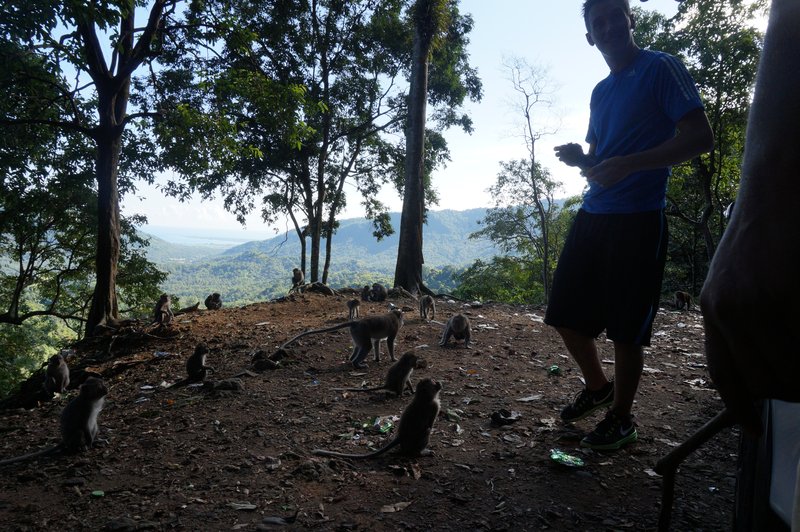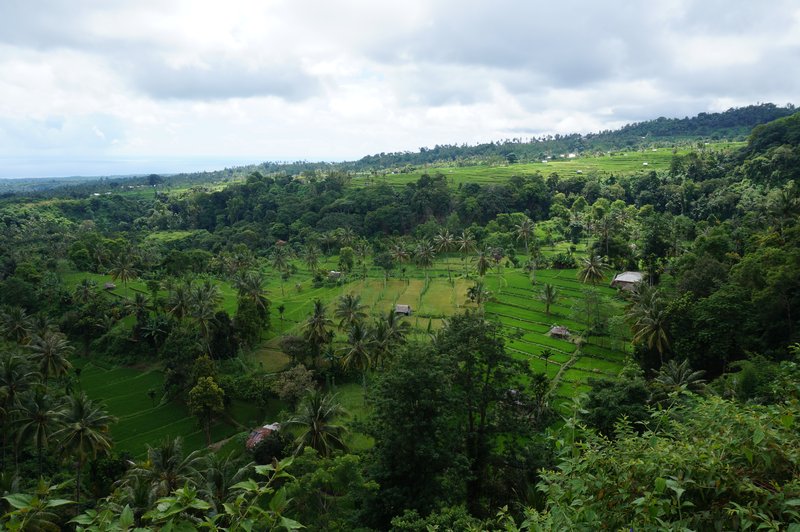 Right now we are enjoying our snorkeling and Alban is doing the Open Water Diving Course in Gili Islands! Holiday mode on! :)
Next article soon..